Trikala (Greece)-Photos
27/02/2015
A group of students talking to an author to gather information on how to publish our fairy tale
26/02/2015
Saying goodbye until our next Skype meeting…
Sharing our best Project LINC moments and things we have learnt..
Suggesting some titles and asking from the students in Andover to choose the one they prefer…
Andover Students' first reactions on our fairytale...
Once upon a flower time…
Introducing our fairytale and giving some details on its creation…
Students from Trikala presenting their research findings
Students from Andover presenting their research findings
26/02/2015
Hands up and we are ready for our skype call with our friends in Andover!!
25/02/2015
First drawings for our fairytale…
20/02/2015
Our bulletin board. Full of pictures and feelings…
16/02/2015
Creating their advertisements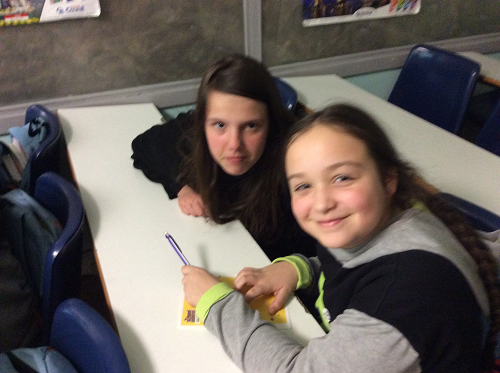 11/02/2015
Meryl Rader from LifeStraw Company talking to the kids about the water filters and announcing her company's offer to our project.
Our Skype call with Meryl Rader from LifeStraw Company. Students from Kansas and Trikala presented their project and talked about their global collaboration.
We are ready to go!!!!Thumbs up for good luck!
Stacey Ryan is talking to the students in order to motivate and encourage them before the Skype call with Ms Meryl Rader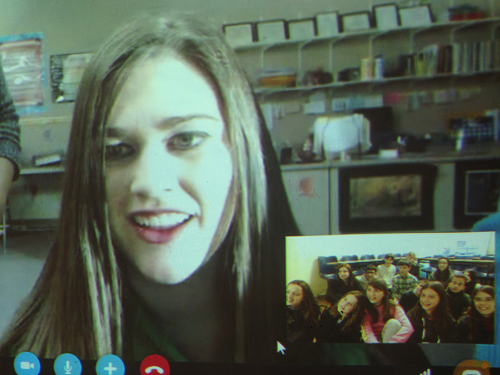 Getting ready for our Skype Call with Stacey Ryan, her students from Andover Middle School and Ms Meryl Rader from LifeStraw Company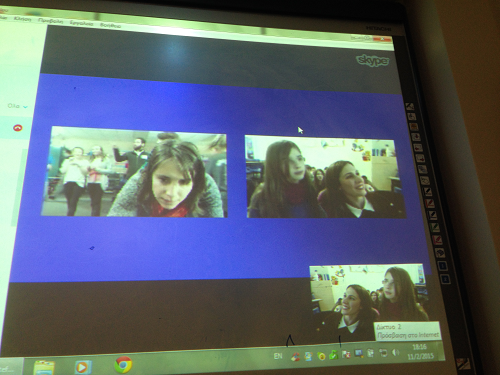 10/02/2015
Students talking with their friends in Andover Middle School and planning their Skype call with the LifeStraw Company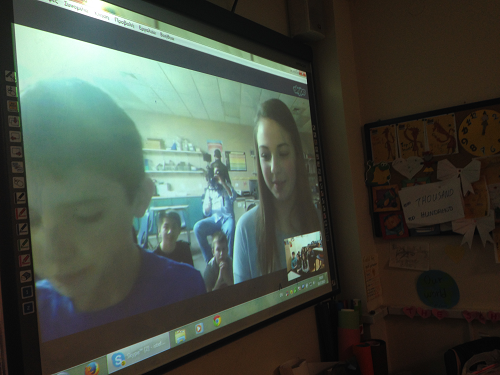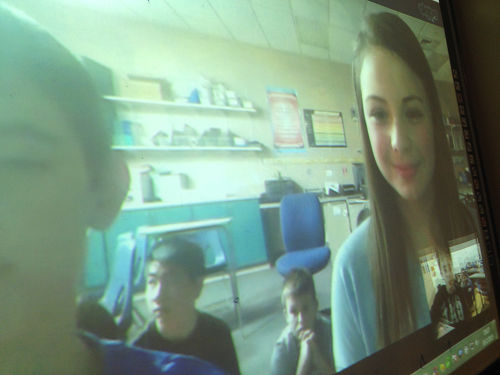 09/02/2015
A student is presenting her power point presentation to her classmates. She did a research on the facts of water shortage.
06/02/2015
UNICEF representatives, Ms Maria Kotaki and Ms Theodora Karavasili, are talking to tje kids about the water issue in Africa, how Unicef helps these kids and the ways they inform people about the situation in Africa. It was one more wake up call for the kids. They asked lots of questions and they talked about water filters too…
Students working on their fairy tale by exchanging ideas…Is it going to be honeybook or petalbook?
04/02/2015
A Greek Teacher, Ms Trelli, who works as a volunteer in the University of Congo, School of Theology and some of her university students who learn Greek are talking to the students about the water issue, the impact on mothers, babies and school children.
Students working on a power point presentation
03/02/2015
Our posters are ready!They are full of pictures and feelings…
02/02/2015
Younger students watched the videos and photos from the Havilla School and express their feelings and thoughts on our bulletin board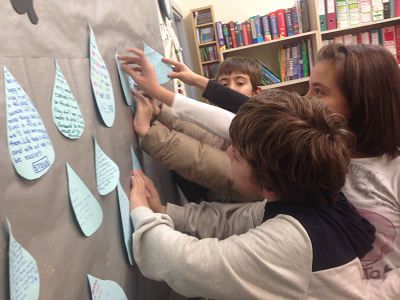 Students researching on the net and try to find the causes of water shortage in Africa and create a presentation
28/01/2015
Students collaborating and reflecting on their final product;the writing and illustration of the project's story
27/01/2015
Students working and collaborating to create posters for their project
26/01/2015
The Instagram page of Tyson after our skype call
23/01/2015
Stacey Ryan from Andover , Kansas is reading a book to Greek students in order to inspire and motivate them.
The book's title is "What do you do with an idea" by Kobi Yamada
20/01/2015
Tyson Mayr a skype social ambassador is talking to the kids about the water problem and calls them into action
16/01/2015
After watching several videos and pictures on how the project has started and what happened in the Havilla school, kids work in pairs to create the timeline of the story